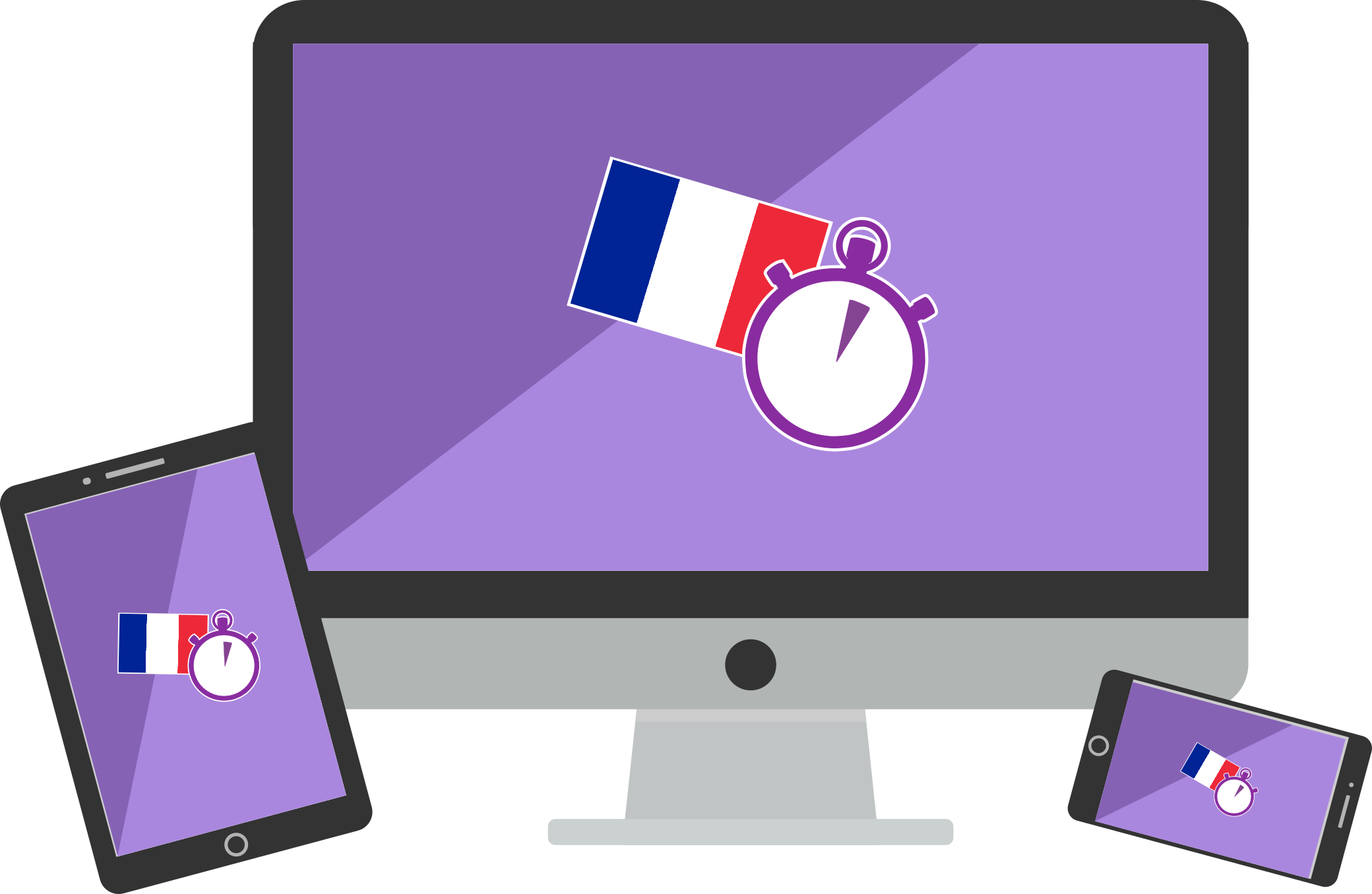 Welcome to course 11 😊🇫🇷
Course 11 in the 3 Minute French series contains lessons 90 to 98, and in it, we learn so much useful French.
We start exploring the world of grammar in a bit more depth in this course and we look at the difference between transitive verbs and intransitive verbs. Whilst it's a tricky topic, it will come in very useful, especially when we start learning something called reflexive verbs.
Basically, transitive verbs are verbs that have to or can take an object, whereas intransitive verbs are those that don't take an object. An example is the verb "to eat". If you say, "I'm eating an apple", this sentence uses an object (an apple), so it's transitive. If you say "I'm eating", there's no object, so it's intransitive. Now, don't worry if that made no sense at all - it'll all be explained in course 11!
So, besides transitive verbs and intransitive verbs, what else will we be learning in this course?
Well, there's a very useful word quelque, which doesn't really mean much by itself, but when you put it together with some other words, you get quelque part, quelqu'un and quelquefois, meaning somewhere, somebody and sometimes, respectively. We'll be looking at these words in detail and seeing how we can use them.
We'll have another quick recap of the many different ways to say "what" in French and we'll meet another word: quoi. You can use quoi to mean what with the verb savoir, which means to know.
je ne sais pas quoi faire - I don't know what to do
So, as you can see, you can use quoi in front of infinitives.
We'll look at something called reflexive verbs, which are verbs that you "do to yourself". For example, you can wash yourself, dress yourself and get yourself up - well, these are all examples of reflexive verbs, but we'll be learning many more in this course.
The verb faire is one we've met quite a few times. We know it means to do or to make, but it can also be used in other ways. It's a very useful verb that can be used to express many different things, so we'll be exploring those and learning how to use them in our conversations.
As well as all that, we'll be looking at lots of other topic areas, including:
Lots of new adverbs
The words déjà and pas encore
Lots of new adverbs and verbs, such as peut-être meaning perhaps
How to talk about where things are using the points on a compass
The different regions in France
How to give an email address in French
and much, much more...
I hope you enjoy - merci 🇫🇷
What will I learn in this course?
Here's a handy contents page you can use to see a brief outline of what you'll learn in this course. It will also come in handy whenever you want to recap any particular part of the course - you'll be able to find the lesson quickly without having to trawl through videos!
Get multiple courses in one bundle
You can save money if you buy multiple courses together in one bundle

Course 12, Building Structures and Grammar courses
As well as the 3 Minute French series, I've created anoter series called Building Structures in French
Check your inbox to confirm your subscription