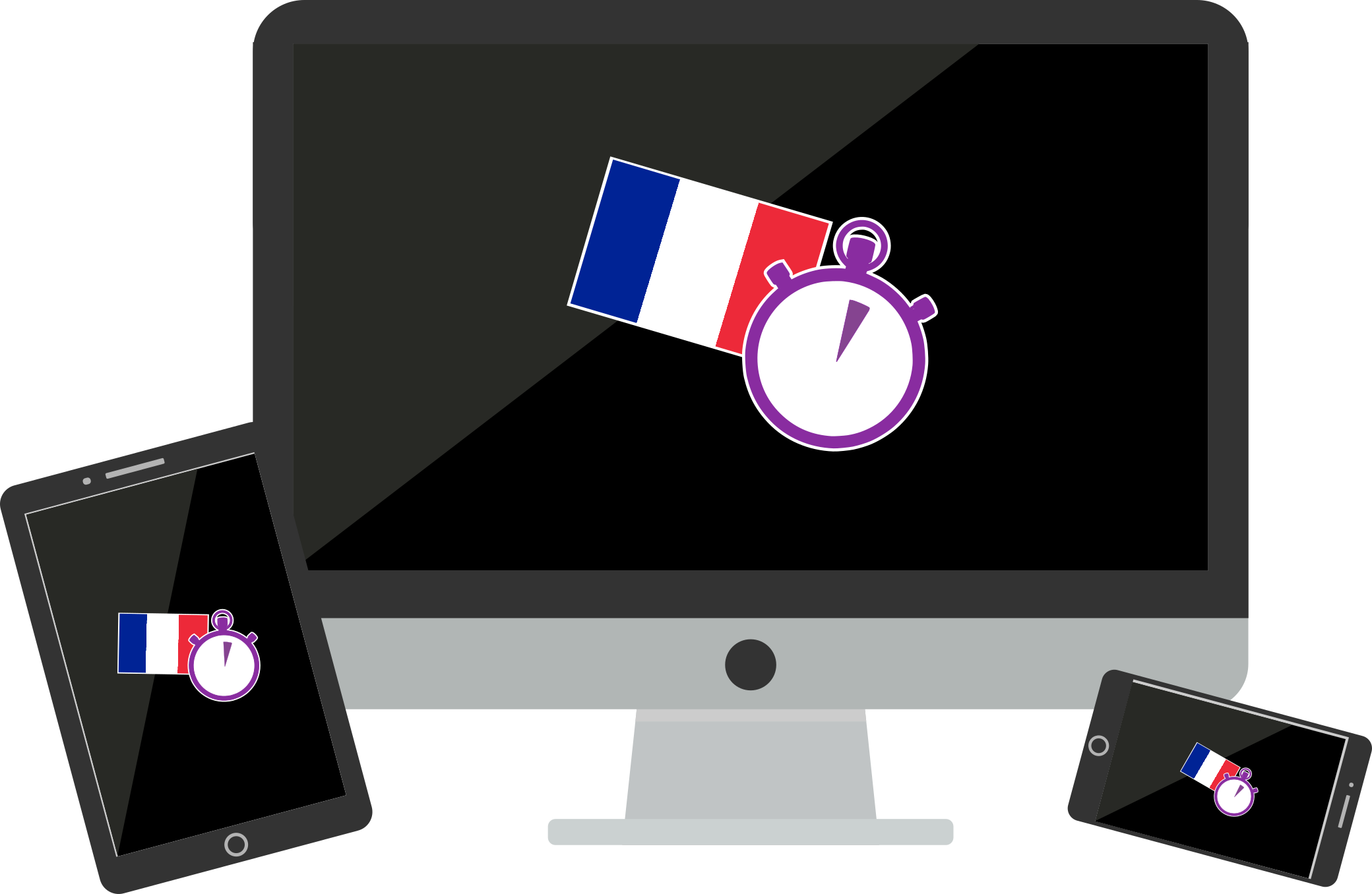 Welcome to course 8 😊🇫🇷
This is the eighth instalment of the 3 Minute French series, and it consists of lessons 63 to 71. It's one of the longest courses in this series, and we start off by having a very in-depth look at the present tense.
We ended course 7 by looking at forming the present tense for "vous", as well as the imperative. We begin this course by going into more depth with the imperative and then looking at the full present tense, warts and all!
Remember in course 4, we looked at Building Structures, and we were introduced to the first French structure? Well, in this course, we're going to look at the second structure in French.

As well as the present tense and the second French structure, we have lots more to look at in this course. We devote an entire lesson looking at French pronunciation.
French Pronunciation
Most French courses start off by looking at a ginormous long list of pronunciation rules before giving you even one word to pronounce. In 3 Minute French, I give you new words and show you how to pronounce them as and when we come to them. I've mentioned little pronunciation tips here and there, but nothing too burdensome.
Now that you've amassed quite a large vocabulary, and you know how to pronounce each of those words, we can use them to learn how to pronounce new words. In the pronunciation lesson, we'll be looking at French consonants, vowels and glottal stops, and how we can now start to use pronunciation rules to figure out how to say just about any word we come across.
After the pronunciation lesson, we'll be learning lots of new verbs and verb phrases that will really boost our language skills. We'll begin to look at how to use "ce que" in French and how it differs from the word "que". We'll also delve further into the world of object pronouns, and how their position in a sentence can change if we use the imperative.
As I said, this is the longest course in the series so far, so don't rush through it. Let yourself have time after each lesson to process what you've learnt and to practise forming your own sentences using the different tenses and different words and structures that we've been learning.
I've hardly touched on the full extent of what we're going to be learning in this course, but a few more things we'll be looking at include:
Tips to make you sound more French
Using cet instead of ce
Using the words de and à with certain verbs to mean "to"
Telling somebody to leave you alone in French
Looking at the word dans
As always, I hope you really enjoy this course.
Bon apprentissage | Happy learning 😊
What will I learn in this course?
Here's a handy contents page you can use to see a brief outline of what you'll learn in this course. It will also come in handy whenever you want to recap any particular part of the course - you'll be able to find the lesson quickly without having to trawl through videos!
Get multiple courses in one bundle
You can save money if you buy multiple courses together in one bundle


Course 9, Building Structures and Grammar courses
As well as the 3 Minute French series, I've created anoter series called Building Structures in French
Check your inbox to confirm your subscription